Your home's sewage system is an essential component on how the home functions and when there's a problem with the main sewer line of your home it can drastically affect everyone in the home. If you have a problem with your sewer line, it is possible to face a serious plumbing issue that requires immediate attention. There are some signs that you should be aware of which can indicate a problem which we'll cover in this post. If you notice any of these problems be sure to call a plumber in Ann Arbor Michigan for sewer line repair or replacement.
How to Tell if Your Sewer Line in Ann Arbor Michigan Needs Repair or Replacement
Many home owners think that there is only a problem when their drains in the home don't work. While this can certainly indicate a problem with the main sewer line it is usually the end result of a problem. In fact, many times there are indications that the sewer line is failing but they are often overlooked and then when things stop it can really get bad. And what's worse is that problems usually occur when the most people are home. More people means more taxing on the sewer line and if it's starting to fail it can quickly become a huge problem. With that being said, here are some signs that can mean a main sewer line problem: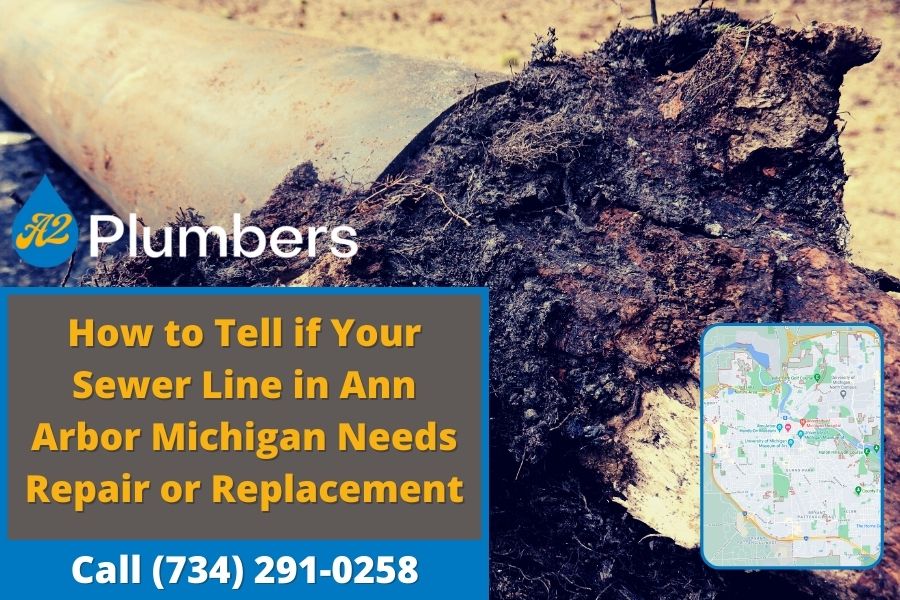 Slow Drains in Home
It is frustrating to see a slow drain in your home. This is an indication that your sewer system is blocked or that particular drain is blocked in some way. This is an indicator that a blockage may be developing as well. If this happens, it will cause a sewage backup that can clog the entire system. It is best to address the problem as soon as possible if your bathtub or toilet is slow draining. It can be expensive to fix a larger problem than a simple blockage. If you suspect that your drainage system is not working properly, take the necessary steps. Typically when a main sewer line has a problem it will affect almost all drains in the home not just a single one.
Sewer Odor
Like all drainage systems, a sewer line must be leak-free. That means no odors or bad smells inside the home. Vent pipes are included in your home which typically exit the roof of your home which may have sewer odor but you shouldn't be able to smell this outside the home and especially not inside the home. If you have foul odors inside the home around any of your drains it can indicate a problem.
Tree Roots Growing Inside Your Main Sewer Line
One of the biggest problems for older homes when it comes to sewer lines is tree roots. Your sewer lines can be damaged by tree roots. If you see wet patches on your lawn, it is likely that the sewer line has been damaged and when there are trees around the roots will gravitate to this area. After all, it's food for them. You should know if there are wet spots on your lawn or ground. This is an indication that there is a problem underground. Undiscovered leaks beneath your lawn can cause a lush, evergreen patch to appear on your lawn. Also, keep an eye on any raised areas in the ground.
These are usually caused by tree roots expanding below the pipes. Foundation cracks may also occur due to a damaged main sewer pipe at your house. Broken sewer lines can cause severe structural damage to your foundation if they aren't addressed immediately. Tree roots can gradually completely clog a main sewer line but the process will be gradual which makes them hard to determine a problem for home owners.
Puddles of Septic Waste in Your Yard
A broken sewer line on your property will cause septic waste to pool in your yard. The sewer line will eventually burst if it is blocked with wastewater. A clogged sewer line can lead to waste accumulation. Then you'll get the sights and smells of sewer right there in your yard. Broken sewer line can be caused by many things but if there is pooling waste in your yard, you need sewer line repair or replacement fast.
Sewer blockage can be a very frustrating and frightening problem in your home. And if not dealt with quickly they can cause loads of water damage in your home. If you've noticed any of the signs above be sure to call the professionals at A2 Plumber for a sewer line inspection. We offer free quotes as well. Call us today for more details.