If your toilet is draining slowly, there are a few possible culprits. Some of these problems can be quite simple and only take a few minutes to resolve. However, a slow draining toilet can be a sign of a much larger problem that will require a professional plumber in Ann Arbor Michigan to remedy. In this blog post, we'll take a look at some of the most common causes of slow-draining toilets and how you can fix them.

Toilet Draining Slowly? You May Need a Professional Plumber in Ann Arbor Michigan
One of the most common causes of slow-draining toilets is a clogged trap in the actual toilet. The trap is the U-shaped portion of the drain pipe that sits inside the toilet. This trap holds water in order to create a seal that prevents sewer gases from entering your home. Over time, hair and other debris can build up in the toilet and cause it to become clogged. As a result, water will drain more slowly from the toilet. Most times the debris that is collected are made of heavy metals and objects. Coins, metal hairclips, and other metal objects are the most common items.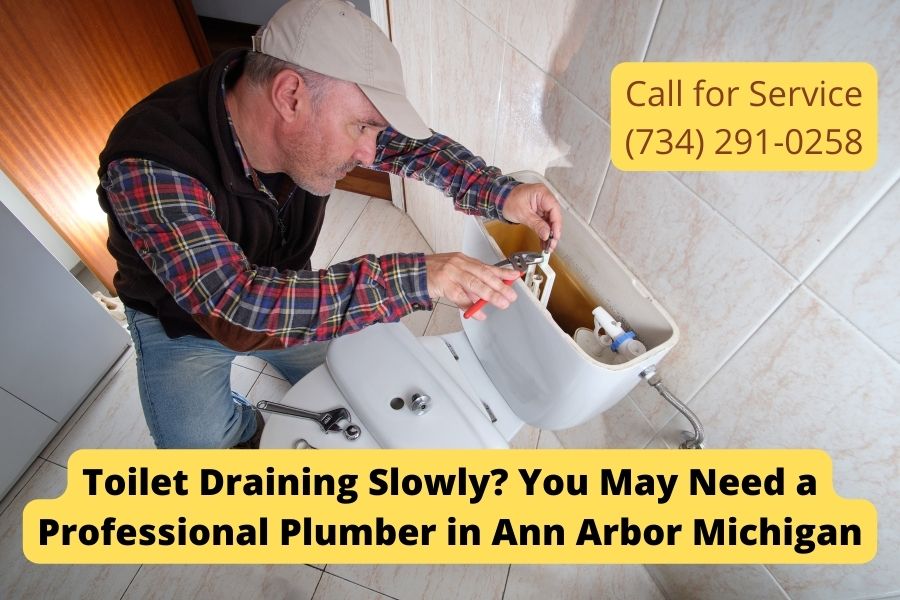 Over the counter cleaners
While over the counter cleaners can sometimes help, the problem is usually a much larger problem that needs to be addressed. In most cases, a professional plumber will need to be called in to clear the clog. Another common cause of slow-draining toilets is a blockage in the sewer line. The sewer line is the pipe that carries waste water from your home to the city sewer system.
If you suspect that your toilet itself is clogged, you can try to clear it yourself with a plunger or a plumber's snake. If these DIY methods don't work, you may need to call a professional plumber to clear the clog for you. Sometimes the toilet will need to be removed completely and inverted to clear the debris in the toilet.
Main Sewer Line Backup
Another potential cause of a slow-draining toilet is a sewer line backup. This occurs when there is a blockage in the main sewer line that prevents waste water from flowing out of your home. As a result, water will back up into your home through the lowest draining point—which, in this case, is your toilet. Sewer line backups are serious problems that should be addressed by a professional as soon as possible.
It's likely you'll see other areas that do not drain quickly too. Signs of a sewer line backup include:
Multiple slow-draining fixtures in your home
Water backing up out of the floor drains in the home especially in showers
Gurgling sounds coming from the drains when you flush the toilet
Unusual odors coming from the drains which can be dangerous as well
If you see any of these signs, do not attempt to clear the blockage yourself. This is a job for a professional plumber who has the proper tools and experience to clear the blockage without damaging your sewer line.
Tree Roots in Drain Pipe
If you have trees in your yard, their roots could be causing your slow-draining toilet problem. Tree roots are attracted to moisture and they can grow into your drain pipe in search of water. Once they've entered the pipe, they continue to grow and expand, which ultimately results in a blockage. If you suspect that tree roots are causing your problem, you'll need to call a professional plumber to clear the blockage and repair any damage to the pipe.
There are several potential reasons why your toilet might be draining slowly. However, before you try to fix the problem yourself, it's important to determine what is causing the issue. If you're not sure what's causing the problem or if you can't seem to fix it, don't hesitate to contact a professional plumber for assistance.
Here at A2 Plumbers Michigan we can diagnose and repair any toilet draining problem you may be facing. From replacing a single toilet to replacing your entire home's main sewer line, we can help! Give us a call today at (734) 291-0258 for plumbing service by professional master plumbers right here in Ann Arbor Michigan. We also offer 24/7 emergency plumbing services if needed.