As your home gets older so does all the components in the home including the plumbing. Over time problems can arise for various reasons and you need to get them fixed. For plumbing issues this may be a leaking faucet or clogged drain but there are some problems that occur that require immediate attention. Having a plumbing emergency in Ann Arbor Michigan can mean water damage occurring at your home quickly and getting a plumber out to repair the problem is a must. There are many reasons why you may need emergency plumbing service for your home which we'll cover below.
Why You May Need an Emergency Plumber in Ann Arbor Michigan
There are lots of reasons why a plumbing emergency may happen in your home and getting it repaired quickly can help to prevent damages to the home. This is especially true when there is pressurized water or sewer backing up into the home. It can lead to all sorts of problems. If you have any of the problems below getting a plumber out quickly can help. You'll also want to turn off the water to your home in most cases which can also prevent damages.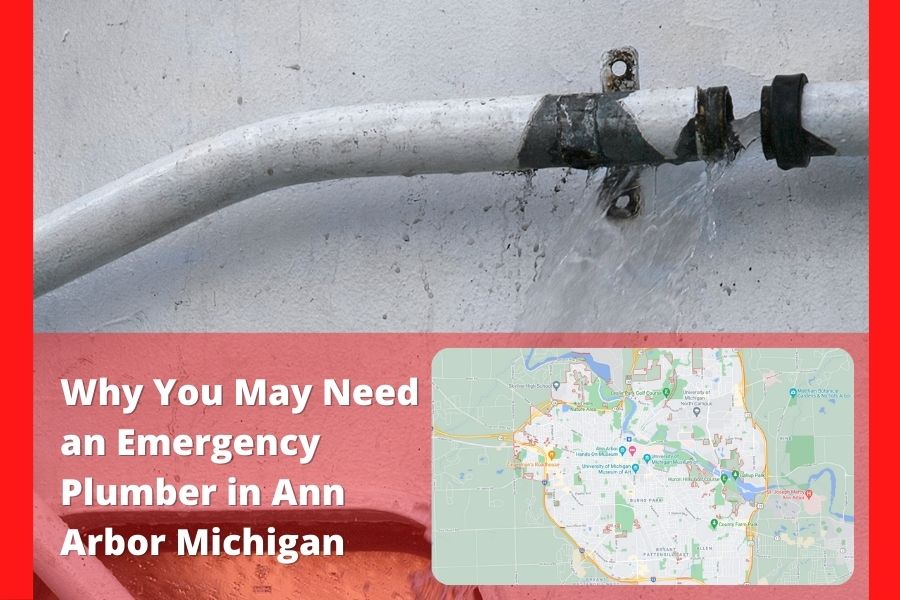 Clogged Main Sewer Line
While a clogged toilet in one bathroom may not present a plumbing emergency when you have a clogged main sewer line it can make for a bad situation. This is especially true for multi level homes. None of the drains in your home will work or drain including toilets and baths. The biggest problem when this occurs is appliances that force water into sewer lines such as a dishwasher or clothes washer. If left going they can force water into the drain line which can then backup into other drains in your home including showers, baths, sinks, etc… If you suspect a clogged drain line it's best to stop these appliances until you get the drain line cleared.
Frozen or Burst Pipes
During the winter the threat of frozen pipes is real. When pipes with water freeze they will expand and rupture causing a water leak. What's worse is that this water leak will be pressurized meaning it's basically an open faucet where the pipe is leaking. And if the rupture is small it can make the pipe spray water over a larger area. Making sure your pipes are well insulated can help prevent frozen pipes.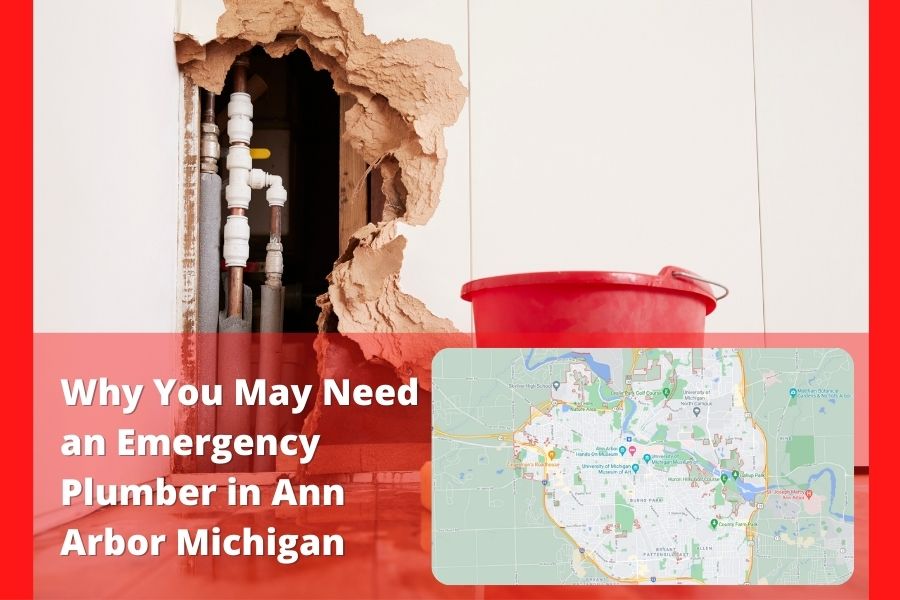 Hot Water Leaking
Another pressurized system that can start to leak is your hot water heater. If a problem occurs with the hot water heater such as a thermostat that doesn't cut out at the right temp it can cause pressure to build up in the tank. A safety release valve will then release the pressure from the tank into a small pan which is diverted to a drain or under your home. If the water starts leaking too fast then the drain may not be able to handle that much water and start to overflow. Another common problem since this drain is never used typically is that it is clogged already. In any case, you'll need to get hot water heater repair as well as emergency plumbing service for your home.
Leaking Supply Pipes
Each faucet and sink in your home has a pressurized water pipe going to it. In fact, there are two, one for cold water and one for hot water. If any of these pipes burst or have problems it can introduce a lot of water into your home quickly. If you notice a supply pipe leaking be sure to turn off the water supply until you can get a plumber to your home.
Sump Pump Failure
If your home has a basement then making sure you have a working sump pump is a must. When you have a sump pump failure it can cause all sorts of damage to your home's basement and if left unattended it can lead to all sorts of other problems. Be sure to get sump pump repairs done as quickly as possible.
A2 Plumbers Offers 24/7 Emergency Plumbing Service in Ann Arbor Michigan
If you've experienced one of the problems above getting plumber out to your home quickly is important. Here at A2 Plumbers we offer emergency plumbing service which can make sure to minimize the damage to your home. Call us today for plumbing service in Ann Arbor Michigan at (734) 291-0258.